2019-11 to 2020-04 in Spamtraps: ESPs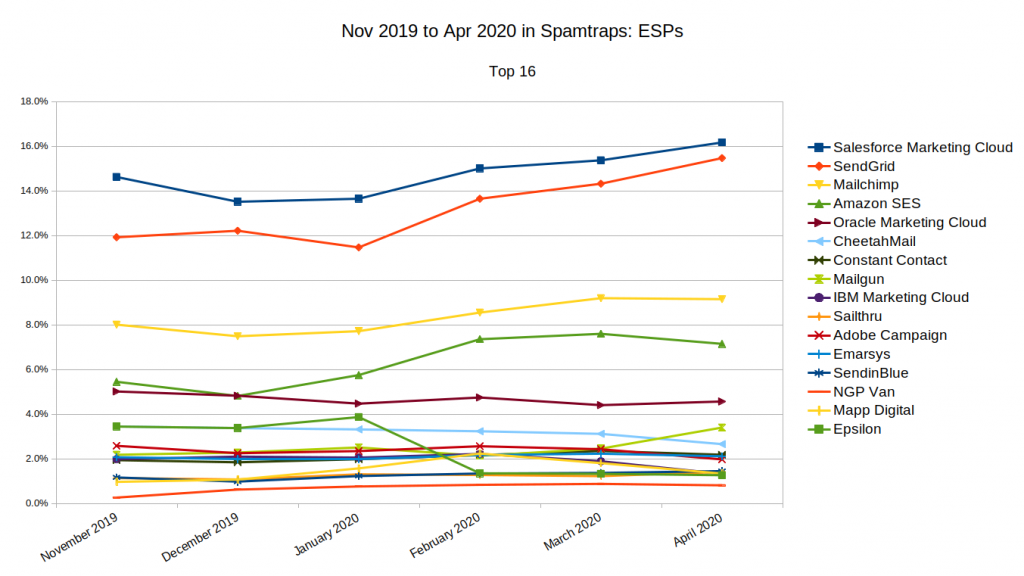 We're noticing a trend in the part of ESP mail from all mail we receive growing. Over the time that has passed since the previous blog, it has gone from a low of 2.5% to a high of 4.5% in January. There may be multiple reasons for this – better pre-filtering of botnet spam that is of no interest to us would be one obvious candidate. Or perhaps we're detecting ESPs better. Given that the percentages of the top two are rising at the same time, it could even be that the ESPs are actually sending more.
ExactTarget's problem in April 2020 is marcusmillichap.com. It's a long time customer with them, but never showed up in any remarkable sense until December 2019. They were responsible for about 4.4% of ET sending in Dec and again now.
SendGrid had a massive problem with now150.site from April 6 to 10, mainly with user account 15038597. A handful of other accounts were also involved. Just the spam sent by 15038597 amounted to over 11% of what we saw from SendGrid in April.
You can't really say that Mailchimp has a huge problem with any specific customer, but in a flash that should surprise no-one, their biggest participant (with just over a percent) in April 2020 was Zoom.us, owners of the videoconferencing platform that has surged in popularity during the pandemic.
In another instance of the pandemic theme, Netflix leads the way at Amazon SES, with nearly 20% of their share coming from this customer.
There is nothing unusual to say about Oracle's customers, they're more or less continuing the way they used to.
Mailgun's infestation this month is thedailygrind.news, a political site of some sort that was registered two days before the inauguration. As Mailgun customers, they came from nowhere in May 2019 and have steadily built up to where they now make up more than a quarter (27%, to be precise) of all that we see from this ESP.
Until January, there was a big surge from info@comms.yahoo.net at Epsilon. Since February, it has completely died down.
That's probably all for anything resembling remarkable over here at Mainsleaze for May Day 2020. Stay safe!