October 2018 in Spamtraps: ESPs
Blast from the recent past

(This is what happens when you forget to click Publish)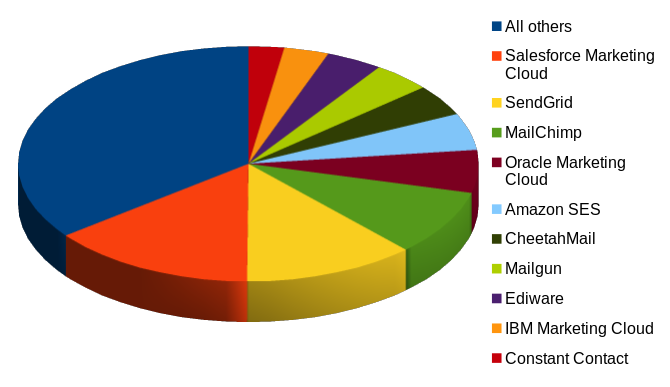 The percentage of ESP spam was 3.0%, down from 3.2% in September. The total amount of mail in this trap collection was up 16% from September.
There's a new player on the list again. Ediware is a French email service provider that has been around since 2001. This is the first time ever they have made this list in any capacity, and it's straight to the top 10. During October 24 from 5 pm to 8 pm CEST they had a malware/botnet/whatever infestation spamming "fix your wifi", "desktop microscope", "heating gadget" etc. To their credit, they got on top of it quite quickly, in four hours the problem was completely curbed, but while it was going on, the volume was huge. Any other stuff from them amounted to 0.4% of the total – no wonder we don't usually see them.
Salesforce is so much ahead of SendGrid this month I would have expected to see something unusual from them. But no, it's the same old players, none of whom are sending anything out of the ordinary.

SendGrid really need to get rid of Advisor Perspectives. Like, really. And so do MailChimp, for that matter.
Bubbling under this month: Mapp Digital (2.1%), Adobe Campaign (2.0%).
RATING
PARTICIPANT
PERCENTAGE
NOTES
MOST PROMINENT CUSTOMER
0
All others
34.7%
1
Salesforce Marketing Cloud
14.2%
ExactTarget
Kohls (4.5%)
2
SendGrid
11.8%
Advisor Perspectives (11%)
3
MailChimp
8.9%
Boston Globe (0.8%)
4
Oracle Marketing Cloud
5.7%
Nordstrom (6.9%)
(Nordstrom and Nordstrom Rack are also Salesforce's #7 most spamming customer with 1.6% of SMC total)
5
Amazon SES
5.0%
Netflix (3.8%)
6
CheetahMail
4.2%
Eddie Bauer (5.8%)
7
Mailgun
4.0%
The Italian affiliate spammers (at least 35%)
8
Ediware
3.9%
Botnet flood on October 24 (>99%)
9
IBM Marketing Cloud
3.1%
renewlife.com (nearly 30%)
10
Constant Contact
2.5%
123dj.com (2.4%)