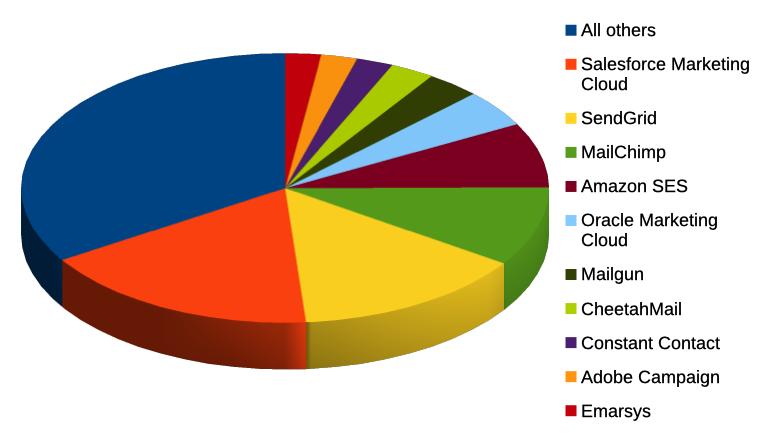 Read more…
Blast from the recent past

(This is what happens when you forget to click Publish)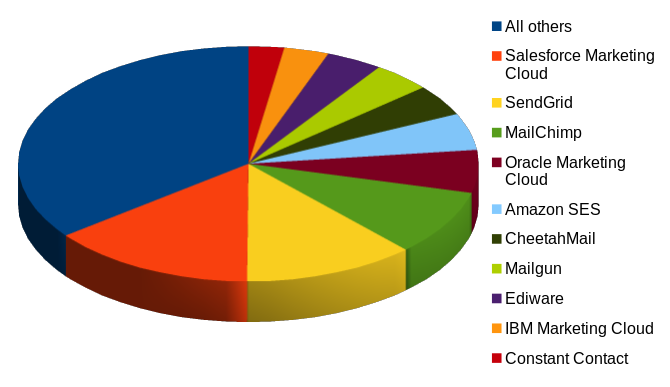 The percentage of ESP spam was 3.0%, down from 3.2% in September. The total amount of mail in this trap collection was up 16% from September.
There's a new player on the list again. Ediware is a French email service provider that has been around since 2001. This is the first time ever they have made this list in any capacity, and it's straight to the top 10. During October 24 from 5 pm to 8 pm CEST they had a malware/botnet/whatever infestation spamming "fix your wifi", "desktop microscope", "heating gadget" etc. To their credit, they got on top of it quite quickly, in four hours the problem was completely curbed, but while it was going on, the volume was huge. Any other stuff from them amounted to 0.4% of the total – no wonder we don't usually see them.
Salesforce is so much ahead of SendGrid this month I would have expected to see something unusual from them. But no, it's the same old players, none of whom are sending anything out of the ordinary.

SendGrid really need to get rid of Advisor Perspectives. Like, really. And so do MailChimp, for that matter.
Bubbling under this month: Mapp Digital (2.1%), Adobe Campaign (2.0%).
RATING
PARTICIPANT
PERCENTAGE
NOTES
MOST PROMINENT CUSTOMER
0
All others
34.7%
1
Salesforce Marketing Cloud
14.2%
ExactTarget
Kohls (4.5%)
2
SendGrid
11.8%
Advisor Perspectives (11%)
3
MailChimp
8.9%
Boston Globe (0.8%)
4
Oracle Marketing Cloud
5.7%
Nordstrom (6.9%)
(Nordstrom and Nordstrom Rack are also Salesforce's #7 most spamming customer with 1.6% of SMC total)
5
Amazon SES
5.0%
Netflix (3.8%)
6
CheetahMail
4.2%
Eddie Bauer (5.8%)
7
Mailgun
4.0%
The Italian affiliate spammers (at least 35%)
8
Ediware
3.9%
Botnet flood on October 24 (>99%)
9
IBM Marketing Cloud
3.1%
renewlife.com (nearly 30%)
10
Constant Contact
2.5%
123dj.com (2.4%)
We had an unexpected participant in Hobsons, who traditionally send effectively nothing to us, only just about enough for us to have recognized that they even exist. It appears their network space is shared between the ESP and some other branch of their operations. The servers of the non-ESP operations were misconfigured on April 10 shortly before 8 pm UTC and started spewing out backscatter (bounces of spam to the forged sender addresses). This went on until 9/11 @ 11 am UTC, peaking in July.
With Yesmail, the money mule spammers (subjects: "New offer", "New vacancies in our company", "Interesting work", "Staff Wanted", "Good day!", "Hello!", "Interesting offer", "Welcome to our company") started appearing in April, peaked in July, and were effectively out by September. The numbers of this type of spam on any other ESP platform are never measured in more than the single digits.
Worst senders:
SendGrid: Advisor Perspectives, by a margin of more than 2x to the next contestant, month after month (with a slight nod in the general direction of Airbnb in July)
SMC/ExactTarget: Kohls (only barely), with Marcus Millichap popping up in September
MailChimp: Advisor Perspectives (WTH?)
Oracle: Nordstrom (only barely)
Mailgun: The Italian affiliate spammers (see previous blogs)
Yesmail: After the money mule trash, mktgdillards.com
Amazon SES: jobalert123.com
CheetahMail: shopbonton.com, loft.com, emailtuesdaymorning.com (all almost below the noise floor)
Constant Contact: 123dj.com (only barely)
IBM: tjx.com, renewlife.com
Mapp: conservativeintel.com
Epsilon: DICK'S Sporting Goods, Inc.
Nuff said. All the data is there and questions are welcome, either in comments to this article or in other avenues. Just haven't gotten around to writing it up.